The Bird and Exotic Animal Clinic
An avian and exotic pet veterinary service 
Reptile Veterinary Services
Why Reptiles Make Great Pets
Snakes, lizards and turtles are common pets here in Australia for people seeking something a little bit different. To remain happy and healthy, each species have their own specific heat, UV lighting and nutritional needs, but with the right knowledge and equipment they can be interesting, relatively low maintenance pets
What Reptile Owners Say About Us
We're committed to providing the best service and health outcomes for reptile owners. We take pride in our reputation for excellence in reptile health.
Facebook: ★★★★★ (53 Five-Star Ratings)
Google: ★★★★★ (10 Five-Star Ratings)
Zee (Facebook Review)
Dr Jac and the team are fantastic! They're understanding, extremely knowledgable, patient, thorough and really friendly. My turtle Torvi is in very capable hands at BEAC.
Alyson (Facebook Review)
Very professional, caring vets and staff. I had to take my jungle python in with an emergency and they spent an hour and a half checking him over and explaining everything as well as answering any questions I had and offering care advice. I have since taken my jungle python back for a check as well as my other four pythons and all the staff have been very knowledgeable about reptiles as well as friendly. The staff do not rush through your appointments but truly care about the well being of all the animals that they see. Couldn't be happier with their service and I will definitely continue to take all my reptiles to them
Delphi (Facebook Review)
Although the staff couldn't save our baby turtle, Squirt, the care they took with him was fantastic. Very caring. We highly recommend BEAC to anyone in need. We will be back for our next turtle, when the time comes, to ensure it's health and wellbeing are at its peak. Thank you everyone for your care of Squirt during his short time there.
Our Reptile Specific Services, Procedures, and Treatments

General Reptile Health Checks






Reptile Blood Transfusions







Reptile Infectious Disease Testing




Reptile Behavioural Advice
Did you know that reptiles can get dental disease too?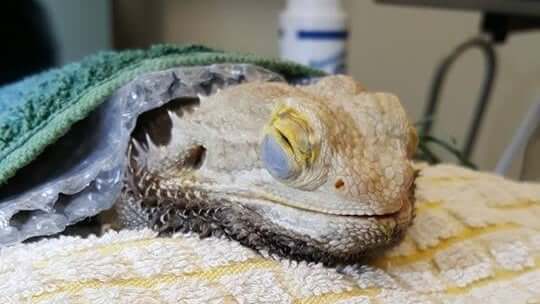 This is Spike the bearded dragon having a dental clean under anaesthetic.
Diet is very important in maintaining your dragon's teeth and preventing dental issues. Inappropriate diets like those that do not require much chewing eg lots of soft bodied insects (flies, moths, larvae), mushy fruit and grated vegetables, allow food and bacteria to build up on the teeth and create calculus. If left untreated, this leads to infection, gingivitis and pus and eventually, bone infection, fractures and starvation.
The aim in feeding our captive dragons is to try and replicate the variety of insects, vegetation and flowers they would eat in the wild. This should be made up of hard-bodied insects (eg. crickets, grasshoppers, cockroaches), tough sclerophyll plants, and native flowers that vary with the time of year. The addition or replacement of the diet with some native Australian vegetation such as Eremophilas, Hemiandra pungens, Crowea, Correa and Grevillea is advised, you can pick these up at a local nursery. Finally they can also have vegetables chopped into cubes large enough to need chewing (i.e. not grated!)
We see a lot of dental disease in lizards, and the number one cause is overindulgence in soft bodied insects and mushy fruits. Feeding appropriately is a big factor in having a healthy dragon, as well as regular checks with your reptile savvy vet.